The (Top 5) Square Wine Glasses You Can Buy Online
---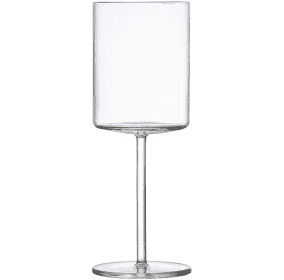 Do square wine glasses exist?
If you are looking for square wine glasses, chances are, you are seeking a wine glass with unique edging. Most "square wine glasses" on the market today are advertised as square when they only appear to be square from a side angle view. This is a great feature because when tasting wine, you are encouraged to swirl the wine in your glass to activate the aromas. If a wine glass had four distinct square edges, it would make for a "splashy" swirl. The lack of curve would make your wine jump from edge to edge; we all know that red wine stains. Not a good look. The main difference in these glasses is that they have a flat bottom of the bowl. The flat bowl is a stylish contemporary look that is sleek and elegant. However, if the wrong wines are poured in them, it can change the intended wine drinking experience.
What are square wine glasses used for?
Square wine glasses are perfect for use as your go to white wine and still rose glass. We recommend using square wine glasses for wines that are distinctly fruit forward with a clean finish. Chilled whites such as Riesling, Sauvignon Blanc and Viognier are a fantastic match for a square wine glass.
Square wine glasses are also very aesthetically pleasing and tend to be a conversation point at the dinner table. The square wine glass has been popular for 'Pinterest" and 'Instagram' posts due to the ultramodern and unique visual appeal of a square wine glass.
The top 5 best square wine glasses
Our Claire Red Wine Glasses are crafted in the Czech Republic with the finest quality crystal. These tall glasses are perfectly designed adding an elegant, yet modern touch to your dinner or special event.

Set of 2 or 4 glasses, capacity: 14oz
Wide rims, allows the wine to properly breathe
Ideal gift for friends, colleagues, wine lovers
Dishwasher Safe
Elegant and safe packaging
Limited 1 Year Manufacture Warranty




Buy Now




BEAUTIFUL ARTISAN EDGE DESIGN – Elevate your evenings with four premium wine glasses crafted from beautiful artisan Square designs. Each elegant piece contains a sturdy foot, elongated stem, and sharp bowl, making each an ideal choice for any wine variety.
DISHWASHER SAFE – Say goodbye to endless scrubbing to remove red stains and residue marks. Simply place any of the glasses in a dishwasher to remove all stains for a like-new appearance.
UNIVERSAL SHAPE – Enjoy any type of wine with a set of glasses specially designed for universal use. The elegant shape of the bowl ensures wine aficionados can enjoy red, white, champagne and rose varieties while inhaling the aroma of each wine.

Buy on Amazon




A BEAUTIFUL GIFT FOR ALL OCCASIONS - Luxury and sophistication - Raise your glass and make a toast to the most meaningful moments in life with the PERFECT GIFT from the heart - Weddings, anniversaries, engagements, bridal showers, or just everyday casual use. A unique gift idea - Enthusiasts, romantics, and guests will surely be impressed by these glamorous glasses. Impress even more and use these glasses during holidays like Christmas, New Year's Eve, and birthday celebrations.




Buy on Amazon

Set of 4

UNIQUE AND FANCY DESIGN: The wine glasses set of 4 come with an ultra-elegant design, having beautiful glass cut, the long graceful stems make it easy to hold onto and help keep your wine the correct temperature without being affected like acrylic stemless glasses. Elegant wine glasses for perfect you




Buy on Amazon

Set of 4 - Cylinder Design ideal for White and Red Wine - Modern Edge Crystal Stemware - Stunning Gift for Wedding, Birthday, and Anniversary - 14 oz

Buy on Amazon
Why is a square wine glass not best for all wines?
Square wine glasses are sold in limited sizes, usually having the bowl of the glass max out in size under 3-inches in diameter. With less than 3 inches of surface area allowed gives less aeration space than traditional wine glasses offer. "Square" or flat bottom bowled stemware inhibits a clean and powerful swirl without having spear shaped based to promote a swirl. Also, when you bring the wine glass to your lips there will be a more rapid flow of wine to your mouth. Without the proper angle of a U-shaped glass, there is no gradual angle or slow path to your lips. Remember, wine is meant to be sipped, not chugged.
Therefore, we recommend wines that do not urgently demand an abrupt swirl in your square wine glass and wines that you will consider porch pounders on a hot summer day.
Why is it important to swirl your wine?
Swirling your wine agitates the aromas contained within your wine through aeration. Aeration is also known for "letting your wine breathe." As the wine contacts oxygen, it begins to reach it's prime state. Remember, half of wine tasting is done through smell, the rest is done through visual appearance and of course, taste.
The traditional bulb of a wine stem was created with a U-shaped bottom to aid in the swirl of your wine. This creates a starting point for the distinguished swirl of your wine.
Things to consider when choosing a wine glass?
Where will you store your wine glasses?
Consider shelving space (height and width)
Will these live in a wine cart or bar caddy?
Do you have a hanging rack? If so, does the base have enough space to fit into the slots?
Consider the height and diameter of the glasses as they are standing next to each other.
What wines you often drink? Are you selecting the right wine glasses for your palate?
Do you like traditional style wine glasses or wine glasses with a unique appeal?
Do I also need stemless wine glasses, cut glasses or square glasses?
All of these questions should come into consideration when selecting the best wine glasses for you. In need of a great place to store your wines and wine glasses? See these great options
SHOP WINE CARTS
The different shapes of wine glasses and when to use them?
On the market today you will find an extensive variety of wine glasses to choose from that can convolute your decision making. Here we will break down the primary wine glass types and their intent to better help you select the wine glass that best suits your needs.
The Champagne Flute: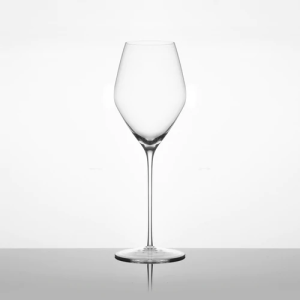 2 popular versions:
COUP (Seen in Photo)- Has become the most popular in the recent decade as many have shied away from the classic trumpet flute. The coup has a wider rim allowing for more extensive aromas and a less claustrophobic experience.
Classic Flute- Stars with a very narrow base of the bowl and progressively opens as you move towards the rim. This allows for a beautiful display of firework bubbles as they escape towards the top.
The All Purpose White & Red Wine Glass: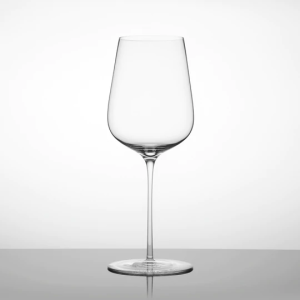 The all purpose glasses are perfect for hosting dinners and events. There is no judgment on a simple and elegant stem with limited varying detail. A medium sized stem with a narrow base and bowl will store well in cabinetry and in plain sight on a well decorated wine cart.
The Chardonnay | White Burgundy Glass: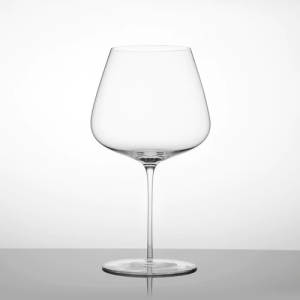 As some glasses can be used interchangeably, most restaurants like the diamond shaped stemware for rich chardonnays with complex elements. The wide bowl with a narrow rim allows the aromas to remain slightly contained within the glass for when you nose hits the rim. This wide bowl allows for a comfortable stem to nose angle allowing the drinker to get as close to the wine itself without spilling.
The Pinot Noir | Red Burgundy Glass: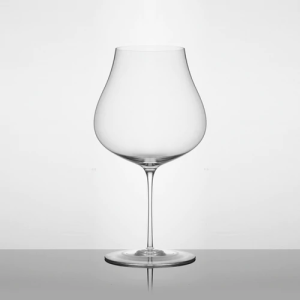 These hips do not lie. The most curvature stemware graces the most detailed and feminine wines available. With the most dignified shape and chic appeal, these glasses perfectly complement the grace and beauty of Pinot Noir. As all perfect dinner pairings typically feature Pinot Noir, it is highly worth the consideration if you are a fan of one of the most prolific varietals and wine producing regions of the world.
Cabernet Sauvignon | Bordeaux Glass: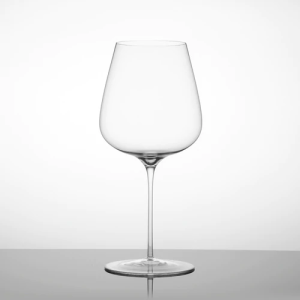 Cabernet Sauvignon is often considered the varietal with fierce body and tannin. The cross threat is multifaceted and pairs perfectly with all big bodied wines. From all of the five native red Bordeaux varietals Cabernet Sauvignon, Cabernet Franc, Merlot, Malbec, & Petit Verdot to Zinfandel and more, you will almost always find a use for this stem. Considered a "must have" in a wine glass collection.
The Square Wine Glass | Unique Choice: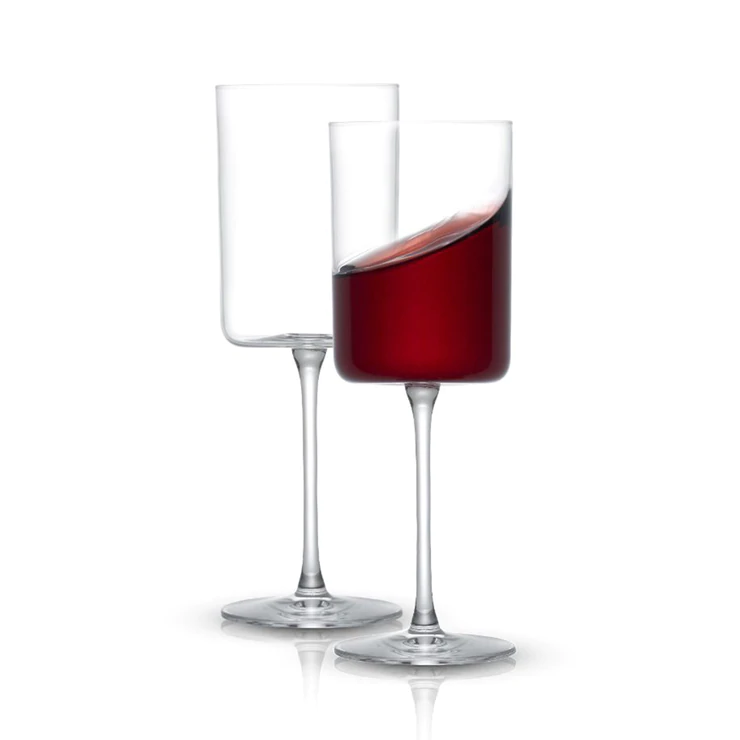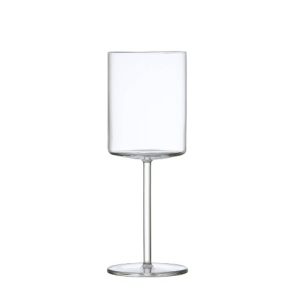 With the newest member to the club come a one of a kind staple. Taking over as the all purpose stem, you want to have a glass on hand for the most casual of circumstances. Wine is not only for fine dining and formal settings. A glass with a snack, a quick chat with you neighbor, your book club get together, or just a taste to wind down. It is important to have a versatile glass for everyday or any day situations. These glasses are also known as flat bottom wine glasses.
what is a traditional wine glass?
The traditional modern-day wine glass exists not just for its alluring appearance, but for the captivating experience it provides you with. A practical opportunity to fully embrace the aromas and taste of the wine. From the base to the stem, from the stem to the bowl, and the bowl to the rim. Each detail is carefully thought through to aid in the wine drinking experience.
All stemmed wine glasses offer a unique and effortless grip. The stem and base provide the drinker with an opportunity to clearly see the contents inside the glass. The stem keeps fingers off the bulb of the glass to allow you to properly inspect the color. Inspecting the color/ hue of the wine is a major component in professional wine tasting.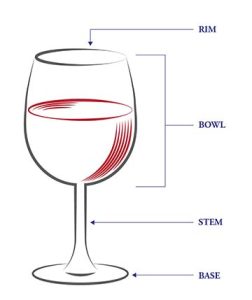 The bulb of a wine stem was created with a U-shape to aid in the swirl of your wine. Swirling your wine agitates the aromas contained within your wine through aeration. Aeration is also known for "letting your wine breathe." As the wine contacts oxygen, it begins to reach its prime state.
The rim of the wine glass is the final important factor in a well-made wine glass. When selecting the best wine glass, you need consider all consumption related elements. A thin rim is optimal for enjoyment. The perfect wine glass should be a vessel that you can hardly tell is in your control, you want to feel as "one with the wine." A thick wine glass rim can impede on the indulgence and become a hindrance on the experience by subliminally interfering with all the steps you want to take into consideration while tasting wines.
Here are our recommended wine glasses for the best wine drinking experience: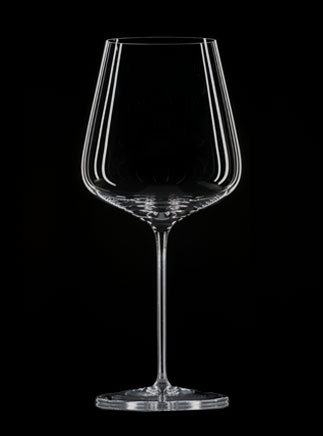 ZALTO
From the first touch, each Zalto glass distinguishes itself from all other glasses. From the perfectly executed balance to the extraordinary design, the achievement of the Denk`Art line are glasses that seem nearly too delicate to hold, and yet they are made for just that. This is glassware that stands at the rarefied point where form meets function.
Shop Now
Flagstaff House Review Page is Reader-Supported. When you buy through links on our site, we may earn an affiliate commission.