Black Wine Glasses (Tested and Ranked)
---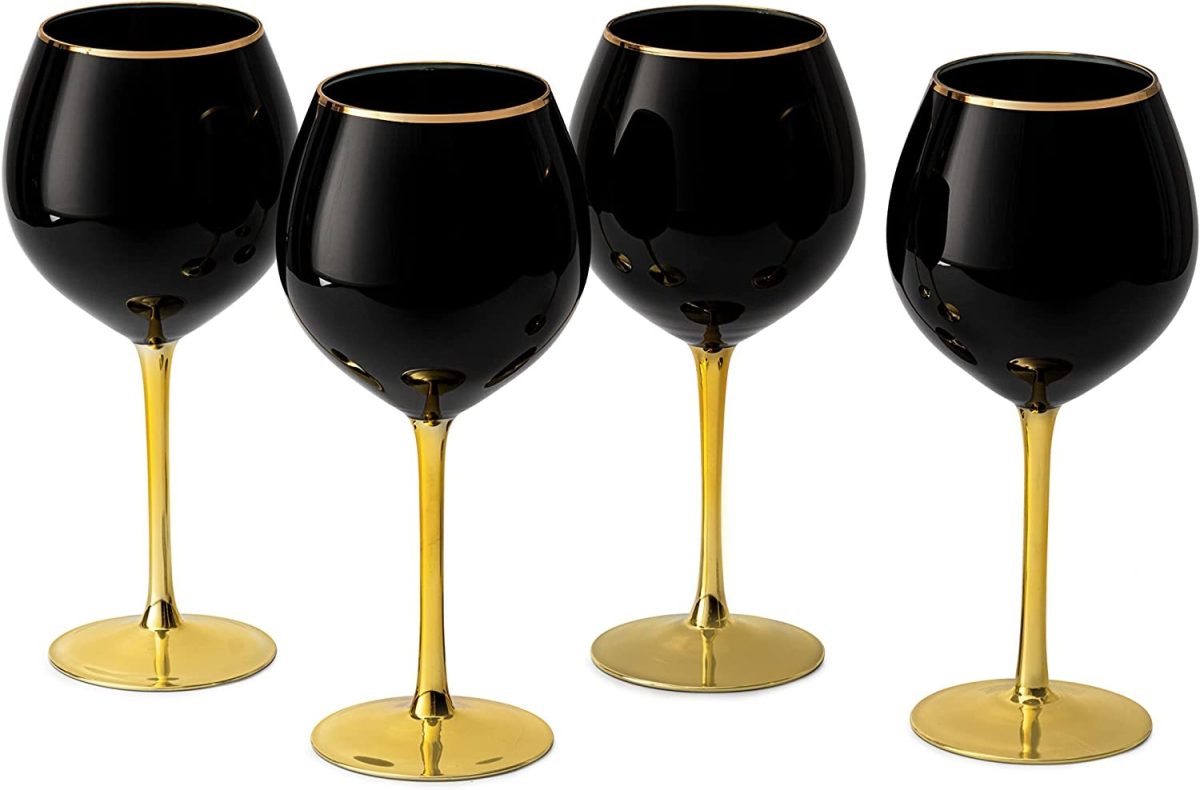 In this post we will explain the purposes of black wine glasses, showcase the best black wine glasses to purchase, give cleaning tips and more. Out top picks for black stem wine glasses and stemless black wine glasses.
what are black wine glasses?
Black colored wine glasses are increasing in popularity amongst dinner parties and sommeliers looking to hone their tasting skill set. When dying the glass to a pitch-black color you are removing the visual components of tasting your wine: leaving the experience entirely to your plate or taste buds. This removed visual experience adds a sense of surprise and curiosity to your next sip. The element of surprise makes the taster naturally elevate their attention to both smell and taste. Yes, black wine glasses are a Halloween party must, but they dual purpose for many other reasons that we will detail in this post below. Keep reading to learn more about black wine glasses!
best black wine glasses:
how can a wine glass be black?
Just like hand blown venetian glass, all glass can have colors added. Through a series of adding different minerals and elements to molten clear glass you can create a colored blown glass. Different colors require different recipes to create. These recipes come from other compounds like cobalt, sulfur, uranium, antimony oxide and more. While pretty colors are more so used for vases and display pieces, all black glass makes for a gothic and dim appearance that will help to pronounce the colors surrounding it.
black wine glass buyers tips:
When selecting a traditional wine glass, a buyer is commonly seeking the purest wine drinking experience. Where thin glass and clear wine glasses bring the drinker to be "one with the wine." See our standard wine glass recommendations here. No blemishes, scratches, or paintings are most popular in the current decade. In the past, wine glasses were a work of art. Often hand painted or served in cut crystal glasses, the wine glass used to be the artwork of the table. Now simple glass is considered modern and colored glass is frowned upon. However, this does not have to be the case. People are getting bored with the same old glass at every restaurant and house party. Consider purchasing an array of stemware to fit your every need and give your guests something to talk about.
Blind-tasting tips in a black wine glass:
When sommeliers and wine enthusiasts embark on a journey of refining their knowledge and tasting skills, they look for anyway to create an advantage. Blind tasting is the art of deciphering a wines origination location, varietal, vintage, and producer all while having no prior knowledge of what wine was poured for you. A seemingly daunting task that is reserved for those with keen attention to visual, aromatic and taste senses. However, adding the elements of surprise to your tasting exercises requires the taster to focus on other details of the wine drinking experience. Visualizing the wine is the first step in the tasting process. By using a well-lit area with a bright back canvas (white table linen), an experiences wine connoisseur can determine a lot about a wine. Such as, depth of color, viscosity, and sugar and alcohol content. All which give you a prejudice on the wines taste before taking a sip. When adding a black wine glass to the mix you already eliminate the first phase of tasting which makes the taster have to make a decision solely based off of the aromatic and tasting steps. This is where the blind taster can truly focus on alcohol, mouth feel, tannin structure, acidity, and of course flavor. Tip: using masking tape you can easily number the outside of the glass to reference your tastings afterwards.
how to clean a black wine glass: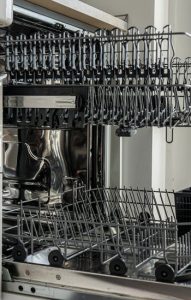 Depending on the suggestions given to you from your purchase, you may have to hand wash your glass. Fortunately, most manufacturers do blow the glass with the black coloring which makes it so that you can easily put your black wine glass in the dishwasher if you choose to. Otherwise, if the glass was painted, you may be out of luck. As paint will diminish over time when washed with harsh chemicals in the dishwasher. When hand washing your glass, use warm to hot water (don't burn yourself!) with a soft dish soap and sponge, delicately scrub the glass inside and out with the soft side of the sponge. Rinse and repeat at least once before placing your glass on a drying cloth. The most common mistake made when hand washing a glass is improper drying of the glass. If you do not dry your glass properly, you will be left with water spots and a streaky glass. Even with a black glass you will find that particulates in the soap and water will still leave behind a sweaty look. So, remember to take a microfiber cloth to wipe off any remaining water droplets after 5 minutes of air drying. Do not cap or place your wine glass upside down after washing as that will contain the moisture that is trying to air evaporate and leave you with a messy finish.
When to not use black wine glasses:
Black wine glasses are festive and fun for a surprise course on a tasting menu where you can develop great conversation about the wine. They are also the perfect fit for your annual Halloween party. Just remember when this is appropriate, as not everyone loves a surprise, and some will be turned off by a questionable glass with a mystery inside.
FLAGSTAFF HOUSE REVIEW PAGE IS READER-SUPPORTED. WHEN YOU BUY THROUGH LINKS ON OUR SITE, WE MAY EARN AN AFFILIATE COMMISSION.