Cast Iron Cooking
---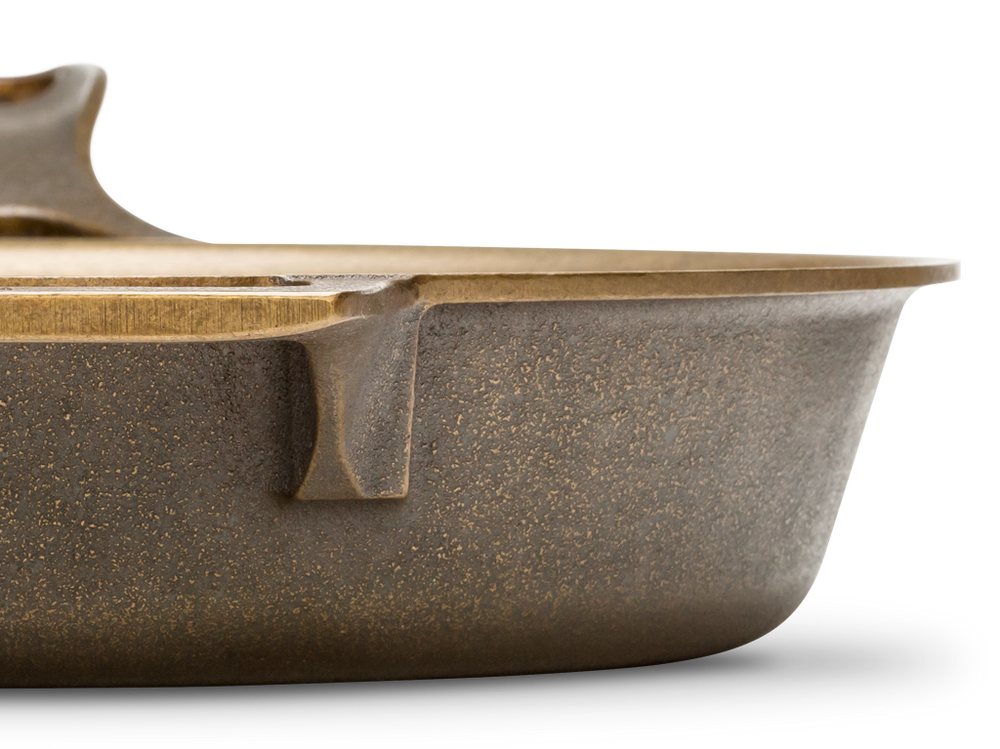 All you need to know about cast iron cooking
Classically, cast iron products were purely intended for manufacturing in warfare, agriculture and architecture. Since then, cast iron has evolved to be a major player in household kitchens and large scale restaurants. Cooking with cast iron can be simple and very rewarding for you, if your follow the first rule of the kitchen, love. Here you will find that you will get back what you give to your cast iron products. If you give your pans the proper TLC throughout your life, you will never need to replace hem. So much so, that often generations will pass down their cast iron pans, cauldrons, and Dutch ovens onto the next generation; yes generation! Cast iron has withstood the test of time, the shape and texturing of a well kept cast iron pan is a proven staple for all talented home chefs.
are all cast iron pans the same
You can find cast iron in every home product store and large scale retailer, but are they all just the same thing? In reality, cast iron is cast iron, sure. However the heat retention ability, rapid heat time, and shape can often be the only similarities. There are many other details within a quality cast iron pan that will separate it from the pack. Details within such as iron thickness, pan wall depth, texturing, handle shape, pan color and side spout are all important factors to consider. Before just buying any cast iron pan, make sure to do your due diligence; remember a cast iron pan will span generations.
where to buy a cast iron skillet
Our favorites are clear, we like quality, detail and durability.
Our list of the TOP 3 Cast Iron Pans:
This 10 inch cast iron skillet is as sleek and sexy as they come. With sharper edging, deep cut pour spouts and an easy grip handle, this skillet is a lifer. With oven safe durability up to 500 degrees you can flip from stove top to oven to grill top with ease and assurance. With 9 inches of cooking surface and 2.5 inches of pan depth you can comfortably load in your favorites.

Buy Now

The 12 inch cast iron skillet by Stargazer is quite the looker. Available with or without a preseason allowing you to take full care of your pan from birth. However, their oil based seasoning is free of toxins that are commonly a deterrent for a seasoned purchase. Likely the most user friendly skillet on the market today. This skillet is surprisingly light weight, which is a game changer. Unique to the Stargazer is its "stay cool handle," marketed as a handle that holds less heat, do not be tempted to test without caution. The weight to handle ratio of this pan truly makes it the most approachable. In addition, there is no pour spout on the edges because they implemented new edging technology allowing for a drip free pour from any area on the exterior adding to its clean look.

Buy Now

Be the boss with the massive 14 inch skillet. Pit Boss offers the most budget friendly cast iron pans & products on the market including starter sets. Available from 8 inch cast iron skillets through the 14 inch cast iron skillet you can find a size for any cabinet. Take it to the next level and go for deep skillets with lids for wood chip smoking and camp fire delights. Did someone say camping? The cast iron cauldron- Cast Iron Camp Oven -is incredible at home in your oven or over an open flame under the stars.

Buy Now
i just bought my iron pan…now what?
Waste no time. Get to it. Follow the steps the manufacturer details on your packaging. Many cast iron pans come pre seasoned with an anti-rust chemical coating. It is vital to remove this coating and start your own seasoning process that the iron will love.
Do not get it wrong, this factory seal prevents rusting in transit which allowed for you to receive a beautiful pan in the first place. But rust can be natural with cast iron products, have no fear, rust can be removed and your pan can come back to health assuming there are no cracks.
Next step = FAT. Cook highly fatty foods in this pan like bacon or sausages. The rendered fats will help to fill in the gaps in the pans sealant. This is a slow process, but if you consistently cook in your cast iron it will one day be that go to non stick pan you can only dream about. Yes! non- stick without the need of teflon.
Heat! Your cast iron pan loves heat. Go ahead turn your oven on and get your pan piping hot. When your pan has cooled, dip a paper towel into canola oil and lightly brush the entire pan (handle and base included) in the oil till it has a beautiful glossy appearance.
chefs tips for your cast iron skillet
1. Store your pan in the oven. Even if you are not using your pan, keep it in the oven while baking or roasting other items. Your pan loves heat. Give your pan the love it needs. Bonus: the heat retention of the pan will help to keep your oven warm as the skillet will act as a heat rock in the middle of your oven.
2. Be patient. Perfecting your cast iron into the stick free pan you want takes time. Use your pan as often as you can, at least once a week is preferred.
3. Buy a "Ringer." This steel scrubber aids in the quick cleaning process. While hot take the bristles of the scrubber and quickly rub the pan till its contents have dissipated.
how to clean a cast iron skillet
Never ever put your cast iron products into a dishwasher. Soaps and detergents will change the surface tension of water which allows the water and oil/fats to mix leading the sealing fats to be removed from the pan. You will essentially be starting over from scratch. Remember you are building a strong seal over time that build a strong coating to the pans base.
When talking about cleaning a cast iron pan, you are seeking to fully remove visible particles. Scrubbing your pan while still hot with a ringer will help to easily remove all of those visible particles. Water, a scrubber and some muscle will work just fine to remove those clingy particulates.
Now that you have removed all visible particles its time to re-season your pan.
how to season a cast iron skillet
Start by getting a paper towel and a high temp burning oil such as canola oil. Do not use oils like olive oil as they have a low burning temperature, this will have side effects when you go to heat your pan again. Slightly dampen your towel with the oil, start with a teaspoon worth of oil. Now navigate your paper towel around the entire pan (handle and exterior included). You will be finished with this step when your pan has a beautiful glossy finish. Your pan will let the oils soak into it. You should be able to put your pan on the counter top and the pan should not leave a oil ring.
Next, it is important to give your pan what it loves, heat. Place your pan back into the oven and let it toast. No need to blast your oven but 10-15 minutes above 400 degrees will bode in your pans favor. This will not only help season your pan but help to naturally clean and sanitize the pan. The highly reactive metal in cast iron will always allow your pan to get to temperature very quickly. Turn your oven off and prepare to use it again soon.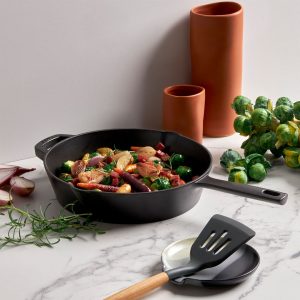 what not to cook in cast iron
Avoid cooking foods in high acid in your cast iron pan. The most common mistake many make is by adding tomatoes to their pan. Tomatoes hold high acid that will ruin your coating and make your items stick to your pan. Other notable items to avoid cooking is cast iron are all fruits from citrus fruits to pineapple and peaches.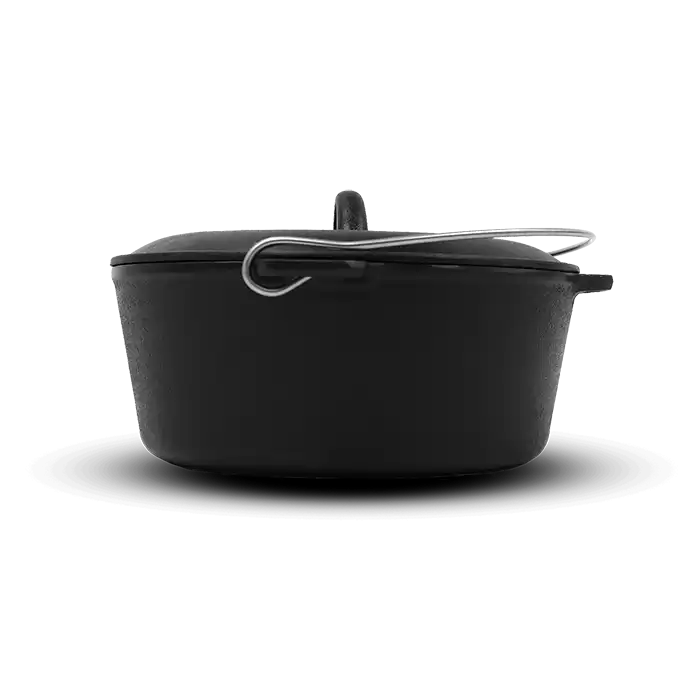 Flagstaff House Review Page is Reader-Supported. When you buy through links on our site, we may earn an affiliate commission.