(Top 10) Best Tabletop Wine Racks for a Breathtaking Wine Display
---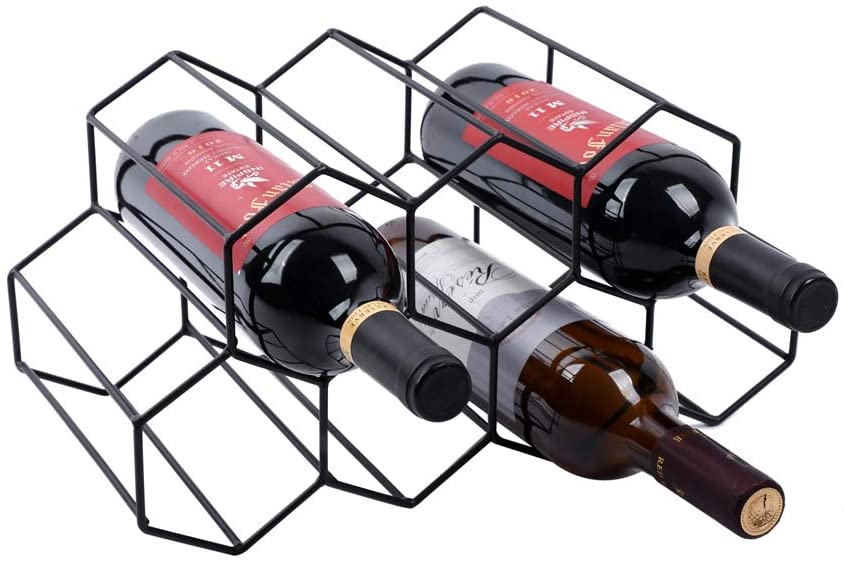 Tabletop wine racks
Are you seeking a tabletop wine rack that combines functionality with aesthetics? Here you will find a series of the best wine racks that can be placed in the most convenient location in your home for your bottle storage purposes. You need a wine rack that will focus on organizing your bottles and maximizing the storage area with the least amount of tabletop presence. Whether you have a fully loaded wine rack, or are missing several slots, these wine rack will always appease. Here we have ranked only the top 10 best tabletop wine racks, we will discuss the various materials used to create them and the best ways to care for them. We will dive deep into the costs and values behind the wine racks, explain the benefits of each rack, and help you choose the right wine rack for you.
top 10 best tabletop wine racks (list):
how to select the right space for your tabletop wine rack
Your quest began with a problem. Too many wine bottles and no place to properly store them. Now, it is time to find the most premium tabletop location to fill. First, start by finding the corner of your kitchen, barren shelf space, or neglected counterspace. Look around your living areas for spaces that are filled with items you rarely ever use. Do you store your blender on the countertop? Is there a KitchenAid that once made you think you were going to "bake all the time." Do you have a stack of magazines and cook books on a shelf that have not seen the light of day in months? Think high, think low. Consider what you typically utilize this space for. As these areas are a premium location for your new and upcoming wine collection.
Now take a measuring tape to your selected space to measure the dimensions for the perfect fit. The next decision may be the most important. Style. What style does your home currently occupy. As there are many different makes and models in the wine storage world, you want to pick the tabletop wine rack that best suits your homes décor. Do not stray outside of the design you have worked so carefully to create.
5 Benefits of Tabletop wine racks
FLEXIBILITY | If you begin to store your wines on a counter or space that you realized you utilize more than you imagine. Or perhaps you need to move the storage unit to make space for a project or upcoming party. No problem! Tabletop Wine Racks give you the flexibility to make changes to the location whenever you want. As opposed to incredibly large wine storage systems or built-in wine racks. Once you determine a location it becomes difficult to move them.
CONVENIENCE | Tabletop wine racks are classically only offered to fit standard wine bottles (750ml). Meaning that the majority of your wine collection is guaranteed to mesh with your tabletop wine rack. Unless you find yourself storing large formats in abundance. The location you chose leads to the most convenient way to keep your wines close.
QUICK AND EASY STORAGE | All of these recommended wine racks offer easily accessibly storage. No barriers to filling your wine rack. Simply unload your wine selection and place the wines 'spout out.' Cork and foil side should be facing you. This is where you can easily determine which wine is in which slot. There is no assembly required with tabletop wine racks.
SPATIAL EFFICIENCY | All tabletop wine racks are designed to stack high. By going vertical with the storage pace, the rack eliminates the need to encroach on remaining tabletop space. As you have seen in some of your recommendations some items can stack so high that you can begin on the floor and stack to the ceiling, giving a generous amount of bottle space.
AESTHETICALLY PLEASING | Wine is a work of art. The bottles the wine comes in is a work of art. Why not continue the trend by displaying your collection to your friends and family. Expect your wine rack to become a huge conversation starter amongst your guests. Highlight the special bottles by keeping them is visible sight on the top shelf of the rack. These wine racks will surely help bring together the décor of your home.
HOW TO CHOOSE THE BEST TABLETOP WINE RACK
First you must consider these important factors before making your decision. Ask yourself the following questions such as, how many bottles do I want to store? What type of material should I buy? What style fits best in my home? & How large or small should this wine rack be?
CAPACITY | Consider how many bottles you would like to have on hand at any give point in time. Do you like to have 4 or 54? This will be the first step in determining which rack size you should seek. Also, do you want a multipurpose wine rack. A rack that also have slots for wine glasses or perhaps a wine key?
MATERIAL | Material matters. Especially when coordinating the theme of your home. If you were to select a dark metal or stainless steel, please consider if this shade matches the hardware in your home. Racks are commonly found in polypropylene, a hard plastic that is recyclable down the road that is incredibly sturdy and offered in a wide array of colors. Wooden frames are a classic look, does that look bode well in your home. The wood storage offers a softer surface that wont scratch or tarnish your wine label.
STYLE | You must determine the style of your home and match your wine rack accordingly. Is you home classic, modern, contemporary?
SIZE | "Measure twice order once." Know your countertop space then make your selection. All above wine racks have listed dimensions. You know how many bottles you want to store, now make sure the selected wine rack has a home and does not occupy more counter top space than it needs.
cLEANING YOUR tabletop WINE RACK
Consider how you will clean your wine rack. Do you have the right cleaning supplies?
While cleaning your countertop may be a daily occurrence. Cleaning the items on the countertop is not. When the time does come around and your wine rack is starting to look faded, remember you do need to take the time to care for the nooks and crannies of your rack. Dust accumulates in all areas and will require tending to. When cleaning metal, acrylic or plastics you are always okay with your everyday all-purpose household cleaning spray. Whereas wooden racks should be brushed down with a damp cloth then polished with a wood furniture polish to bring back the glistening glow you loved from the beginning.
interested in a wall mounted wine rack | click here
Flagstaff House Review Page is Reader-Supported. When you buy through links on our site, we may earn an affiliate commission.