Christmas Wine Glasses | Holiday Buyers Guide
---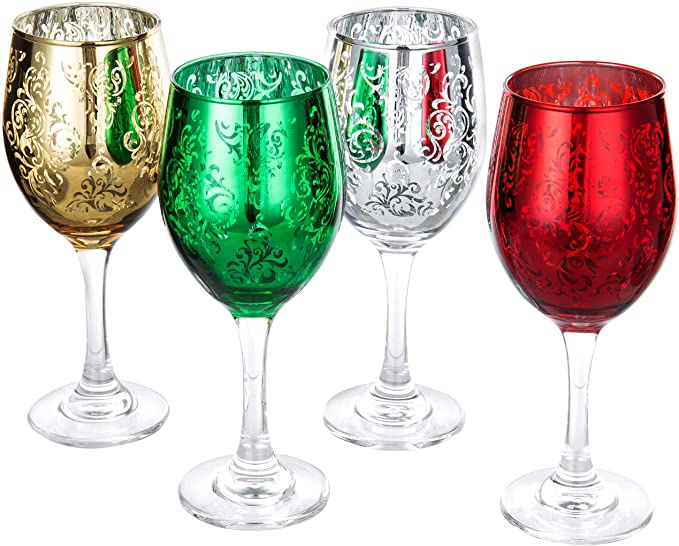 Planning the perfect holiday party and want everything to come together perfectly? Look no further, minor details can make a world a difference for your décor and the overall experience for your guests. Christmas themed stemware adds the perfect touch for your guests to notice that you went above and beyond with the aesthetics and prove that you know how to do the holidays right. Plus, you can keep you wine glasses out for use from Thanksgiving through the New Year! Or are you in need of the perfect gift for a friend, family member, colleague, or neighbor? We have comprised a total buyers guide for gifting the best-in-class wine glasses for the fine wine lover in your life.
Notice, that there are two separate buyer's guides included in this post. The first is intended to add the perfect touch of Christmas flare to your Holiday season. The second list featured is built with the best wine stems made making for the perfect Christmas gift. Read further for our cleaning and storage tips!
See our list of the (top 5) Christmas themed wine glasses for your holiday season:
buyer's guide to christmas wine glasses:
why you need christmas themed wine glasses
Everyone notices the festive details of a holiday party. From the cute cocktail napkins, your perfectly decorated Christmas tree, holiday themed tablecloths, proudly illuminated house lights. When welcoming a guest and handing them a glass or wine or their favorite beverage, why not have that vessel decorated for the season? Many of these Christmas wine glasses are unique which gives the wine drinker an identifier that this glass is theirs for the evening.
cleaning your christmas wine glasses
Finesse went into hand painting and hand blowing these state-of-the-art wine stems. Finesse should go into cleaning and polishing your wine glasses as well. Hand washing with your favorite dish soap will work wonders for the longevity of your wine glasses. Avoid harsh chemicals like ajax and degreasers as they will quickly scrub off the coloring and perfect details of your wine glass. Pick up a clean sponge and delicately spread your dish soap and scrub as needed. Give a fresh rinse and let air dry for 10 minutes. After the air dry, take a microfiber cloth and polish the water spots away. Otherwise, the water marks will create a off-white residue that will linger and require another wash before your next use. The benefit to some Christmas and Holiday themed wine glasses is that the painting and coloring can often detract from the imperfections of your hand washing duty. Only utilize a dishwasher to clean your holiday wine glasses if specifically approved on your shipping package.
storing christmas wine glasses | stemless and with stem
Wondering if it is worth buying wine glasses that you can only use for 1/12 of the year? Pondering its value to you and the troubles of digging through storage in a year when you are ready to use them again. Consider the delivery packaging as the best way to continue to store your wine glasses for reuse next year. The cardboard packaging and inner glass liners can be saved for storing your glasses for years to come. If you already have a solid storage system for your ornaments and décor items, then you should have no problem finding an extra space to put your new Christmas wine glasses. Obviously, stemless wine glasses are always easier to store with less fear of breakage. Where the stemmed glasses will often break at the stem if too much weight is placed on the stem. Keep your Christmas wine glasses handy, as you never know if you will be throwing a "Christmas in July" celebration.
If you are interested in a do it yourself wine glass decoration project, consider buying the following glasses and following this link to decorate a wine glass from scratch!
best wine glasses and wine decanters to gift for christmas
why wine glasses are the perfect holiday gift
Do you have a wine aficionado in your life and are searching for the ideal Christmas gift? Wine glasses and decanters are always regarded highly by those who enjoy a good glass of wine. Do not worry about your gift matching their current selection or being cohesive with their conventional wine drinking standards. The key to a perfect wine glass selection is variety. As a true connoisseur will indulge in the great varieties of varietals and will seek use the best stemware available to suit the needs of the wine. The same wine glass can get mundane, and it is vital to mix up the usual and add some flare to the wine drinking experience. What better way than by gifting them some impressive stemware. Then down the road when you are a guest in their home and you are presented with a wine in a special glass, you will confidently know that your gift was a useful hit!
what to consider when gifting wine glasses
Over the decades, trends with wine glasses have come and gone. Cut crystal was once the wine glasses for the kings and queens, now they are more intended for whiskey. Coups to behemoth sized wine glasses have all server their time on top. Now connoisseurs are seeking sleek and elegant for their go to stem selection.  The minimalist design created by the top wine glass designers are the rave and show signs of never slowing down. Thin glass bases, stems, and bowls have started to provide the wine drinker with an experience like never before. Making you feel one with the wines, as if they were just hovering directly below your nose. Looking for quality stemware is difficult in stores as many regard them as too fragile and perhaps expensive. Notice that our selections have a broad range but all meet our standards of best in class for the wine drinking experience and have been considered the best stems available today.
FLAGSTAFF HOUSE REVIEW PAGE IS READER-SUPPORTED. WHEN YOU BUY THROUGH LINKS ON OUR SITE, WE MAY EARN AN AFFILIATE COMMISSION