Best Wine Chiller Options (TOP 15)
---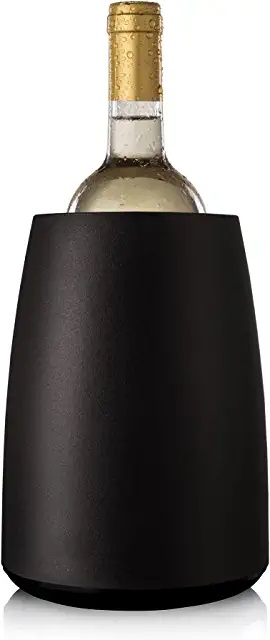 wine bottle chiller
What is a Wine Chiller? Let's get to the point. You have wine, and you need to get and keep it cold. You need a better solution than storing your wine in a refrigerator or ice cooler in between pours and sips. That's far too inconvenient. Thankfully there are some incredibly creative products that allow you to keep your wine bottle conveniently placed with a beautiful display. We will recommend our top picks, showcase wine chillers from marble, metals, and give you some great wine bucket options for your next dinner party.
top 15 best wine chillers
what are the wine chiller options?
1. Wine chiller Bucket
Wine Buckets can be a fantastic way to quickly bring your wine bottle down to a lower temperature faster. High end and premium wine buckets are made of a metallic material such as copper or steel. The metals react with the ice to maintain a more consistent temperature throughout. Since the metal rapidly takes the temperature of that surrounding it, the exterior bowl will not work to combat the ice. Whereas, a plastic wine bucket can be more approachable in cost, you will find that they are far less effective in maintaining a colder temperature for longer.
Most restaurants prefer to keep sparkling, wine and rose wines in iced wine buckets near the table being serviced. They can easily control how submerged the bottle is within the ice to help determine the drinking temperature. So, on a hot summer day they can pour short pours into the wine glass to keep your next sip as close to 36 degrees as possible. Wine buckets are intended to have far more space between the bowl and the bottle to allow for space to be filled with ice. Whereas the marble and metal wine chiller sleeves are meant to brush up directly with the glass of the wine bottle.
A wine bottle in direct contact with ice and ice water is the most efficient way to keep the bottle very cold. However, there are downsides to this approach. Primarily, that when submerging a bottle in ice and water, you are instantly damaging the label. Paper based labels lead to ink bleed and label removal from the bottle in an inconsistent way. So, if you are cherishing this bottle of wine and would like to either keep the label or the bottle as a keepsake, we do not recommend the wine bucket option. Another downside is that metal based wine buckets will often have condensation on the exterior or "sweat" from the internal temperature. This is just fine for keeping temperature, but the metal bucket can get tarnished from water contact over time. Which is why we just recommend using a brass, copper and silver polish to buff out the ugly drip lines from time to time.
2. Marble wine chiller
The old school classic that brings charm to the table. A holster for your wine bottle made of beautiful marble. The marble wine chiller option brings an aesthetic and allows for your wine to stand close by while remaining at a cool temperature. Marble is terrific for keeping items cool. Marble naturally feels cold because of the way it reacts with heat. Being a dense and hard stone, this allows for heat to transfer through the rock incredibly quickly. Marble can handle excessive heat temperatures but on a small-scale unit such as a wine bottle holder you will find that the marble loves to stay cold. Learn more about marble and temperature.
Marble wine chillers have a circumference that exceeds that of the average wine bottle. Meaning that when you place your wine bottle inside the ring there is no direct contact between the bottle and the marble. The radiating cold temperatures slowly transfer to the bottom half of the wine bottle that is submerged in the marble holster. There are many companies that have varieties of marble colors and unique patterns, you will also find opportunities to customize your marble wine chiller. Customization is great for gifting and in home flare. The only real downside to a marble wine chiller is that it will take up space in your freezer, as this is the best place to keep it consistently cold until you are ready to use. We all know freezer space is hard to come by.
3. wine bottle Koozie
Recall those neoprene koozies that golfers and beach goers use to keep an individual beer cold? Well, they are now also made for white and rose wine bottles! This is the third best option after an ice bucket and a marble wine chiller as it simply acts as a single layer of insulation to what has to be an already cold wine bottle. The neoprene koozie is wonderful of picnics and outdoor events but is less satisfactory if dinner parties and more formal settings. Just like wine coolers, this does provide a wonderful perk of customization for an additional marginal charge.
4. vinglace wine chiller
Vinglace wine chillers have soared to become the most popular portable single wine bottle cooling system around. Their unique design and compatibility with most champagne and wine bottles gives your wine a sophisticated and edgy look. With double walls of stainless steel that have been vacuum sealed makes for a "yeti" like insulation to the wine bottle. The Vinglace Wine Chiller is naturally light in weight and easy to carry. Some options are also customizable laser engraving with a well wish or title. Match a lined wine glass for portable fun in the sun. Vinglace wine chillers make the perfect gift for your wine loving companion.
Wine refrigerators
Enjoying the perfect glass of wine is determined by how it is stored. Temperature has a great effect on the quality of the wine. To learn more about wine storage temperatures and see recommendations for your wine storage click below to learn more.
WINE STORAGE TEMPERATURE
We have diligently rated and reviewed all of the wine refrigerators on the market. We sourced for Large Wine Refrigerators and Mini Wine Fridges to determine what refrigerator system will best suit your needs (see also 'Best Mini Fridge'). To learn more please find our buyers guides that have already helped thousands find the perfect wine refrigerator for them.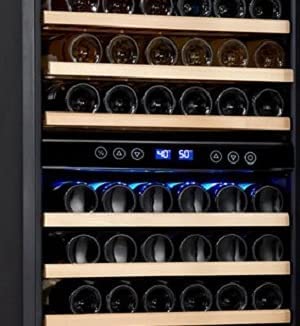 Wine Refrigerators | Buyers Guide
Are you a lover of wine? If so, you may be looking for a refrigerator to keep your wine cool, allowing you to have a refreshing glass of wine whenever you want. Large wine refrigerators will be especially ideal, as you can house many wines. These products are often used in bars and restaurants, though you can also buy one for your home if you are a wine enthusiast who loves a swill of vino.
If you are looking for the best mini wine fridge that will keep your favorite wines at an ideal temperature, then we have got some great options for you. We've done extensive research and testing to find out which of these mini wine fridges is the best option for you.
Large Wine Refrigerators
Mini Wine Refrigerators
FLAGSTAFF HOUSE REVIEW PAGE IS READER-SUPPORTED. WHEN YOU BUY THROUGH LINKS ON OUR SITE, WE MAY EARN AN AFFILIATE COMMISSION.