YETI WINE TUMBLER | Complete Buyer's Guide
---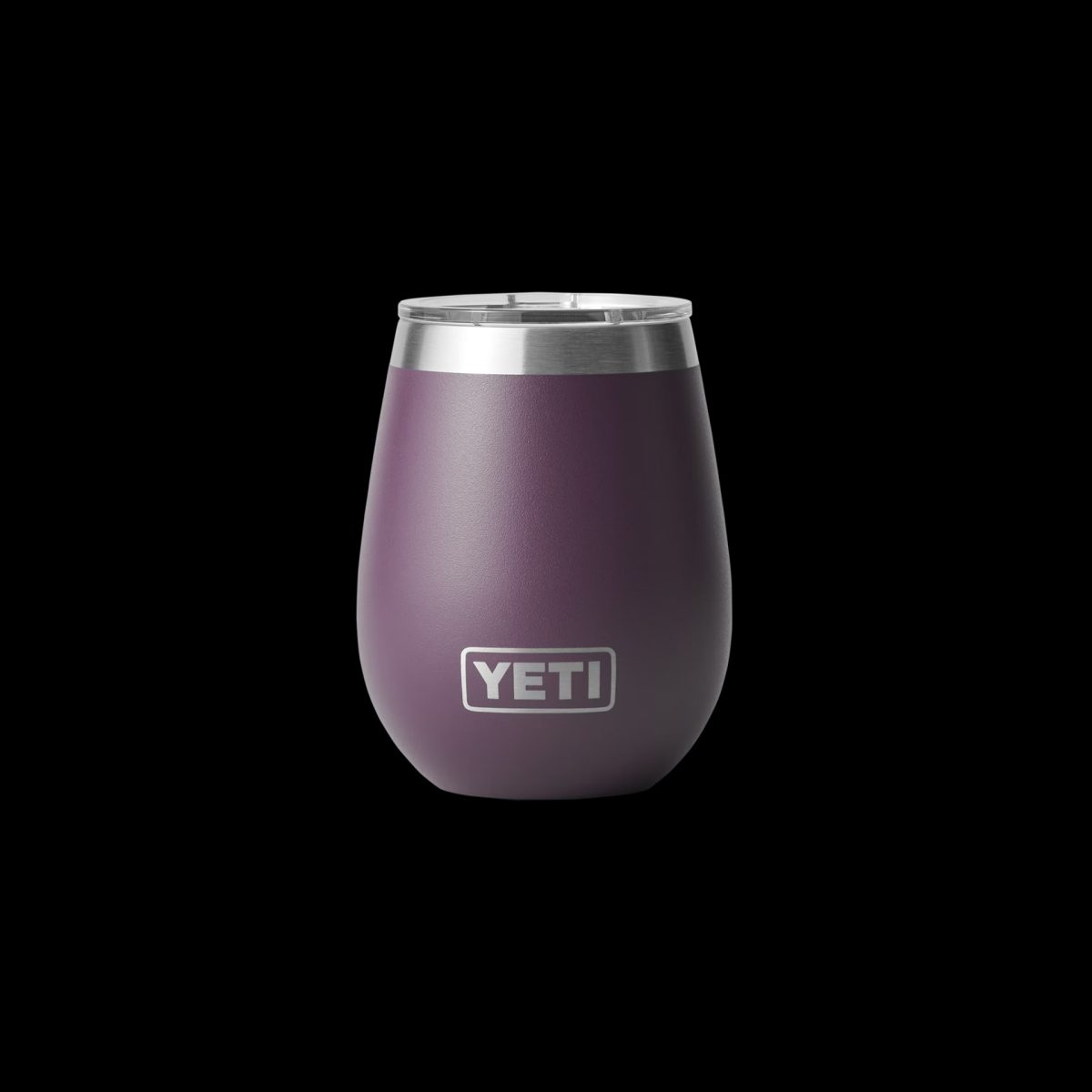 YETI | The company
With a name like 'Yeti' you would have to adhere to performing like a mythical creature. The 'Yeti' character is a fictional character known to rule the Himalayan Mountain range. An area with agonizing cliffs and extreme temperatures, the Yeti company followed the characteristics of extreme temperatures and created one-of-a-kind products to insulate your favorite items in heat or cold.
Founded in 2006, Yeti revolutionized the cooler industry. Whereas all other coolers on the market could not compete with the high-end performance of the high quality coolers hitting the market. Actually, keeping your beverages cold for an extended period of time was just a dream for other cooler producers. The durability of all YETI products is unmatched. Striving for perfection in performance and design all YETI items deliver sheer satisfaction.
With a plethora of different products they all are intended to insulate and maintain temperature for your heating or cooling needs.
what is a wine tumbler?
Think stemless wine glass minus the glass. Wine tumblers are shaped to be a wine glass to allow for the same wine drinking experience in a vessel that helps your wine maintain temperature. Insulated wine tumblers are not your typical dinner table wine glass and are not trying to be. Wine tumblers were created to allow you to take your wine on the go, ie. a picnic, day at the beach or and outdoor barbeque. With thick insulation your visibility will not be as clear but the experience is far superior to a plastic solo cup. The downside can be the lip feel on a 'magslider lid' the thermos top that feels vastly different from a wine glass, but will more effectively keep your chardonnay at the perfect temperature. When searching for YETI branded wine tumblers, make sure to search for the RAMBLER line.
purchase a 'yeti wine tumbler'
YETI Rambler Wine Tumbler
Hard to beat the delivery options associated with Amazon.
Find 16 different color options to choose from, all with prime delivery!
It is best to purchase you wine tumbler with a lid instead of the cheaper options without one, solely because you will want to order one anyways for efficiency and convenience.
10 ounce volume
No customization option directly through amazon.
Buy on Amazon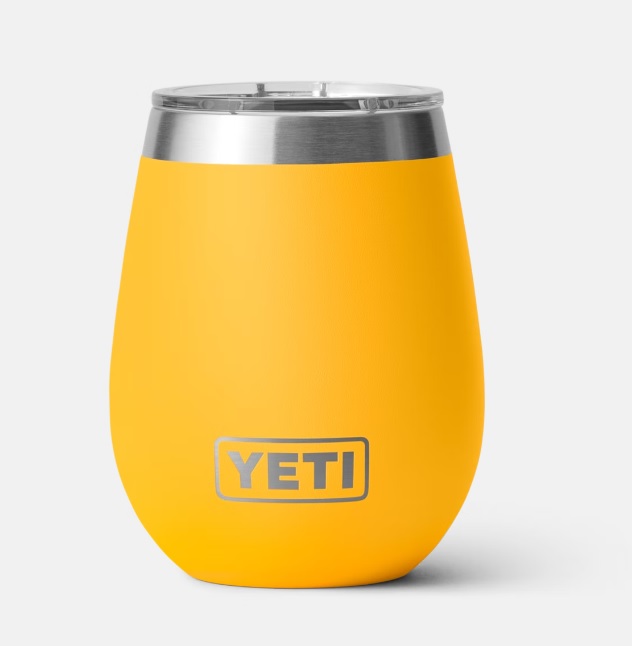 customize a 'yeti wine tumbler':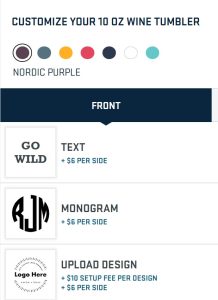 YETI.com offers a customization option from the start of your purchase. With options to add text, monogram or upload your own design. Customization makes a great gift for quite literally everyone. With seven different base colors to choose from its easy to create a gift to remember. Pricing can vary but starts at about six dollars per side and step to be added to your final purchase price. Yes, YETI products can be pricey, but we all know by now that this price directly represents quality.
While there are other independent companies that also engrave customized YETI brand items you will find that they are 30-50% more expensive as a base price. However, there will be more flexibility with your personalized items and word count that your initial purchase price.
what is a 'magslider lid?'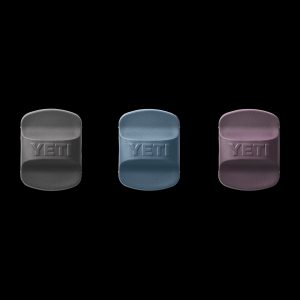 YETI brilliantly created a convenient lid closure utilizing a magnetic strip. The removable and replaceable magnet that comes in a variety of colors as well can quickly close the opening of your lid to help contain temperature and prevent spills! The 'magslider' lid makes your wine tumbler even easier to clean, easier to drink, and is leak proof. Just remember that fully closed lids are not intended to hold carbonated beverages, and if you do make sure to keep the 'magslider' lid in an open position. With an easily named lid the magnetic sliding 'madslider' is just another innovative creation from the folks at YETI.
how does a yeti wine tumbler maintain temperature?
The product your put into your YETI wine tumbler will sustain its initial temperature for quite a while as compared to similar product on the market. But you may wonder, how? Just remember regardless of the science behind the creation your beverage will naturally come to room temperature as some point, that point is just considerably further down the road with YETI products. Using a double walled vacuum insulation process using premium stainless steel and a thermal copper lining, the tumbler is built to last. Click this link to view the whole process! For the best temperature to store your wine view this post.
Best non-Yeti wine tumbler options:
Our Top Pick!
Vinglacé Stemless Wine Tumbler
7 Color options to choose from!
Designed for wine connoisseurs who want their wine to stay cold and not acquire a metallic taste or smell that changes both the taste and the aroma of wine. This wine tumbler holds up to 10 ounces and has a glass insert. The exterior is made of kitchen grade stainless steel, but since it is only on the outside, your beverage will never touch metal. The glass is also double walled and vacuum insulated to keep your beverage chilled or hot for hours.
ON-THE-GO CONVENIENCE: Perfect for any outdoor setting, this glass makes it easy to take your favorite beverage on-the-go.
EASY CLEAN UP: To remove the glass insert, simply twist and pull with one hand while pulling the stainless steel base in the opposite direction with your other hand. This makes it easy to ensure cleanliness of your glass. The glass insert may simply be placed in your dishwasher.
More color and customization options available when you purchase directly from VINGLACE below!
Buy on Amazon
Buy from Vinglace
Budget Friendly
SUNWILL Insulated Wine Tumbler with Lid
Not the most effective but it gets the job done! Perfect for bachelorette parties and casual outdoor hangouts.
The Vacuum Wine Tumbler with Insulated Double-Wall Technology to Keep Hot and Cold Longer: The advanced structure keeps drinks cold for 9+ hours and hot for 3+ hours.
Premium Material: Made from high-quality 18/8 of 304 Grade stainless steel. It is conveniently light and lead-free with durable quality, rust proof and sweat proof. Also easy to wash and unbreakable.
BPA-Free Lid & Straw Friendly: Eco-friendly lid with extra gasket sealed to provide maximum splash proof capability. Drink hole on the top for easier sipping.
Buy on Amazon
Hydro Flask Wine Tumbler
Closeable Press-In Lid slides shut to tame splashes and trap temps, then slides open wide enough for easy drinking
Pure Pour drip-free and clear taste design
Color Last powder coat stays clean and colorful
TempShield double-wall vacuum insulation protects temperature for hours
Made with 18/8 pro-grade stainless steel to ensure pure taste and no flavor transfer
BPA-Free & Toxin-Free
Dishwasher safe
Buy on Amazon
FLAGSTAFF HOUSE REVIEW PAGE IS READER-SUPPORTED. WHEN YOU BUY THROUGH LINKS ON OUR SITE, WE MAY EARN AN AFFILIATE COMMISSION.