Wall Mounted Wine Racks (Top 10)
---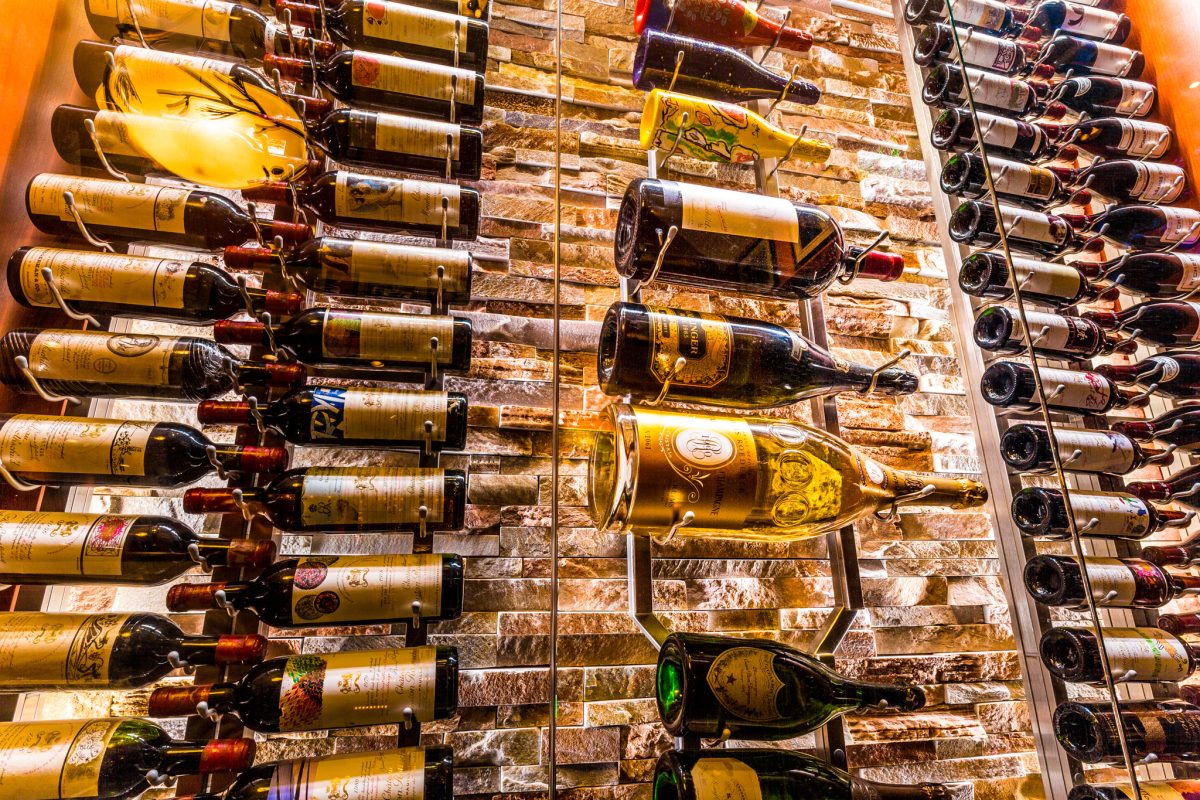 everything you need to know about wall mounted wine racks
Stop stashing your wine bottles on a countertop, in a messy cabinet, or in a closet. Stop wasting your time scouring the internet for thousands of concepts and ideas. We created a buyer's guide to purchasing the perfect wall mounted wine rack for you! Consider displaying your wine bottles as a decorative art piece in your favorite living area. Combine functionality with charm in an easy to instill pleasant on the eye format. Appease the inner sommelier in you by showcasing your collection for your visitors to view. Here we will offer our buying guide for the Top 10 wall mounted wine racks available today. We will discuss functionality and installation tips. You will have a guide to finding the best location in your home or cellar to install your wall wine bottle holder. We will give you tips for the best way to display the labels as well was as help you choreograph wine bottle sequencing.
top 10 best wall mounted wine racks
Why do i need a wall mounted wine rack?
Wine racks provide unique displays that act as art for both home and commercial wine cellars. However, in recent years many have veered away from utilizing and entire room for a wine cellar and brought the wine bottles closer to the consumers (you). Wall mounted wine racks are a convenient way to you to make the most of your blank wall space and to institute organizational tools into your home.
Benefits of a wall mounted wine bottle holder:
Temperature (the temperature of your home is perfect for red wine bottle storage, assuming your home does not go far above 70 degrees fahrenheit. However, long term storage requires a lower storing temperature, click here to learn more.)
Smart Storage System
Aesthetically Pleasing
Easy Access
Functional
Affordable
Where should i install a wall mounted wine rack?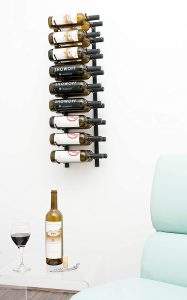 Start by glancing around your dining room, kitchen, wine cellar, or the area of your home where you most frequently enjoy wine. Search for wall space that is not very wide but has a lot of length. Such as a space between a door and a window, or a window and a wall corner. If you were to put a single vertical rack in the middle of a wide-open wall, you will flunk, unless you wanted to create and entire wall of wine. Consider space that is in dire need of a small piece of artwork or shelving. Now measure your desired wall space, ensure that you have at least 15 inches wide for your wine bottles. As most wine bottles are 12 inches in length, you will require some additional clearance space on each side for stocking and movement.
How do i install a wall mounted wine rack?
While most wine racks are not "super easy to install" let's say a 1 out of 10 on the difficulty scale, the majority are simple to install for someone who is slightly handy. If you have experience hanging pictures and paintings on your own walls, you will be able to install your wall mounted wine rack with a breeze. Consider installation of most wine racks to be a 3 out of 10 on the difficulty scale. You will need a stud finder, drill, drill bits, level, measuring tape, pencil, step ladder, and some valuable time (under 30 minutes). If you are not confident in your abilities please seek the assistance of your friend, local handyman, or handyman sourcing websites. Our recommended wine racks come with an easy to follow, step by step, instructional manual for your install.
When installing your wall mounted wine rack, always seek a wall stud for the best support. Avoid drilling into any plumbing, hvac, or electrical components of your home.
Installation Guide:
Template your area. Center the wine rack on the wall space you have chosen and allow for space on the sides. Visually place the center of the wine rack at eye level (not center on the wall).
Using a measuring tape, confirm the general area you wish you hang your wine rack. Lightly mark your screw placement with a pencil. Just through one screw hole to begin
Using a stud finder locate the nearest stud to your pencil mark. If your stud finder shows a solid light with a loud beep, you are in luck! If not, it will just require one extra step to install plastic wall plugs. These will help to guide your screw. Not to worry, your wine rack will come with installation instructions.
  Drill a pilot hole through the drywall and into the stud into your intended pencil mark. This drill bit must be smaller than the screw you are using to adhere your wine rack.
Move your wine rack into place and bolt your wine rack onto the wall starting with the top screw hole. Use your level to move the rack until it is completely vertical. Move to screw the remaining screw holes into place. If you measured correctly this final step should be a breeze.
how do i know which bottles to display and in what order?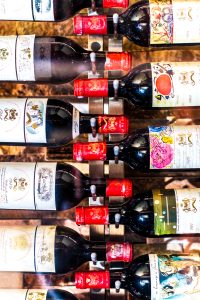 The most fun and exciting part of your new wine rack is designing where to put each bottle for the display. Allow your inner designer to come full circle. Some rules we like to follow for in home use is to prioritize them in importance. Think 'Top Shelf,' the more premium products are usually found on the highest tier of bars and displays. Slightly out of reach so no one mistakes the selection for a daily table wine. If you want to organize by region, varietal, or simply by label, go for it; this is your creation. We recommend alternating colorful labels and bottle styles to add depth to your display. If you are setting up multiple vertical displays you will want to consider having the bottles all face one direction, or to invert the bottles so that cork sides face inward for a more closed off look, like the primary photo on this page from our restaurant's front entryway. Always remember the number one rule to any display, keep the primary label facing outward.
Keep in mind that wall racks are intended for red wine storage, as you would like your white wines to be chilled to temperature in advance of consumption. However, if you plan accordingly, you can certainly store you white on the wine rack for display purposes.
Large format wine bottles will require further discussion and often customization as most wall wine bottle holders are for 750ml bottles only.
wall Wine rack cleaning and Maintenance tips
Our wine rack recommendations have been hand chosen and tested to include ease of cleaning. We love products that require minimal maintenance and are simple to clean. These wall mounted wine racks are all non-porous and have a cleanable surface and finish. To clean your wine rack, take a reusable dish cloth and slightly dampen with warm water, gently rub the cloth around the racks that need cleaning. Another simple way to clean your wine rack is to use compressed air. Compressed air cannisters are classically used to dust electronics but repurposing compressed air for detailed dusting of your wine rack is a breeze.
Interested in tabletop wine racks | Click here
FLAGSTAFF HOUSE REVIEW PAGE IS READER-SUPPORTED. WHEN YOU BUY THROUGH LINKS ON OUR SITE, WE MAY EARN AN AFFILIATE COMMISSION.