Glasvin Wine Glasses | Reviewed
---

All you need to know about Glasvin Wine glasses
Glasvin wine glasses have quickly become the gold standard in hand made wine glasses. As a company based in New York, the Glasvin team has been instrumental in shaking up the wine glass industry. Their creative strategy to eliminate the middle man has allowed for 'Michelin Star' restaurant quality stemware to become more approachable and affordable. Their direct to consumer brand has given a rebirth to the desire for beautiful stemware for everyday use.
Glasvin has a noted motto, "blown to last, priced to break." This way, if you do have an accident, you are not left in tears. You will quickly notice the keen attention to detail within the one of a kind, hand blown glasses. Glasvin products are all simple and elegant, leading to the most minimal thin glass between you and your wine. You will find your relationship with the wine in your glass to be enhanced. Enjoyment will be unmatched which will give you the finest wine drinking experience. Food & Wine magazine voted Glasvin as one their favorite products of 2020.
All Glasvin stemware offer incredibly thin stems, ultra flat bases, and are excessively lightweight. Putting emphasis entirely on the wine. The only choice is for the style that is perfect for you!
See the available glasvin wine glasses below:
Glasvin stemware has become a staple at our fine dining restaurant. We have incorporated them into our initial table settings to make sure we set the tone for our guests. By having this beautiful stem on the table, our guests can experience and expect excellence through the course of their dining experience.
DO i need to worry about shipping wine glasses?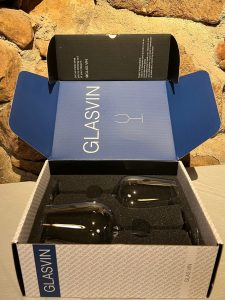 One of the added perks of your Glasvin purchase, is that they come packaged in beautiful reusable boxes with thick foam lining. The thick foam insert prevents the glassware from breaking during shipping and storage. Keeping the glasses nestled perfectly till you are ready to use them. Consider storing your backup stems in the package for future use. No need to worry about your stemware breaking during shipping or transportation. The best wine glasses are stored safe and sound. See photo (there is an additional foam lining that covers the top side of the glasses).
best way to clean your glasvin wine glasses
Glasvin products are dishwasher safe, as mostly all glass products are. The only challenge is ensuring the safety of the glassware while they are being pushed through a cleaning wash. Make sure to keep ample space between stemware and hard surfaces. Note: Glassware is more likely to break while entering and exiting a dishwasher than during a was cycle. Regardless of the detergent used, we found that after the 'heated dry' cycle, most wine glasses will still have minor dishwasher soap residue on the edge where the last wash drips occurred. This is an easy fix! Simply take a microfiber cloth and gently wipe the edges of the glass.
If you hand wash your wine glasses make sure to use a clean sponge and high performance glassware soap. Avoid scented soaps at all costs, as you never want to deter from the wines you drink. Scented soaps will ruin and conflict with whatever you put into your glass. Use warm to hot water and be fully prepared to polish your glass with a microfiber cloth. The sooner your dry your glasses the less likely you are to streaky glassware.
Cleaned your wine glass months ago and are just ready to bring them out for use. Then disappointment sets in that you have dust particles gently lining the wine glass. If you do not have enough time to complete a fully wash and polish cycle, consider blowing compressed air into the glass. This will agitate the dust and send it spinning elsewhere.  Consider this link on amazon to purchase compressed air.
Best way to store glasvin wine glasses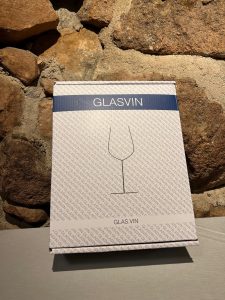 Do not think too hard about this step. The most necessary details are that you keep your wine glasses clean and dust free. Whether you choose to keep your wine glasses on a shelf, wine rack, or wine caddy is your choice. If you own fine stemware; show them off! Display your stems in an area that fits your home. Keeping glassware is an easy access area for your dining purposes will aid in your favor. See our wine cart recommendations here. WINE CARTS
Flagstaff House Review Page is Reader-Supported. When you buy through links on our site, we may earn an affiliate commission.